Please to attend First Annual

Glorious Spektakl for Benefit

Sunday, April Sixth, 2008
2:00 in the Afternoon
St. Jean Baptiste School
173 East 75th Street
(between Lexington and Third)
New York City
$100 VIPs
(food, drink, games - all free)
$50 Honoured Guests
(10 game & food tickets)
$20 Peanut Gallery
(peanuts)
Children under 3 Feet - FREE
Beer, candy, food
rides, games, petting zoo
magic, music, mayhem
& Food
Special Guests:
Glamorous Gail "Miss Latvia of 1963" Dennison
Confounding Contortionist Carlton C. Ward
Bounteous Balancing Becca Blackwell
Amazingly Athletic Aimee German
Bailey the Brilliant Dog
and
The Miraculous Magical Mastery of Mark Mitton
with
Maniacal Music by Grupo Pubeski

Must to RSVP by March 26th
718 638 6037 or dzieci@dziecitheatre.org
pdf of invitation
pdf of regret
(for to mail donation)
Hailing from East Slovenia, Cirkus Luna! may be the worst circus act ever to perform in public. Dzieci utilizes therapeutic encounter, under the guise of inspired idiocy, to create community. Such events are often for children with severe disabilities, but today we include you!
Please join us for our ever-changing annual benefit,
Guaranteed foolish fun for the whole family.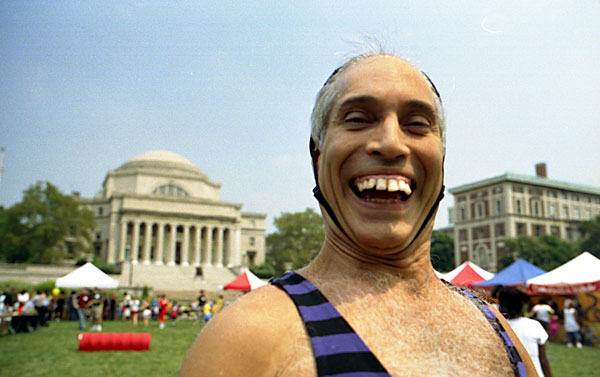 Dzieci relies solely upon our friends to continue this unique process. If you would like to help support the work of Dzieci, you can donate online through Paypal by clicking the button.
Or, hire us! Any of our productions are available for touring, as are our adventurous para-theatrical workshops. We can also provide our unique brand of entertainment and buffoonery for special events: office parties, Bar Mitzvahs, book signings, you name it!
Download our brochure, and e-mail us for more information!

Thank you for being such very good friend!