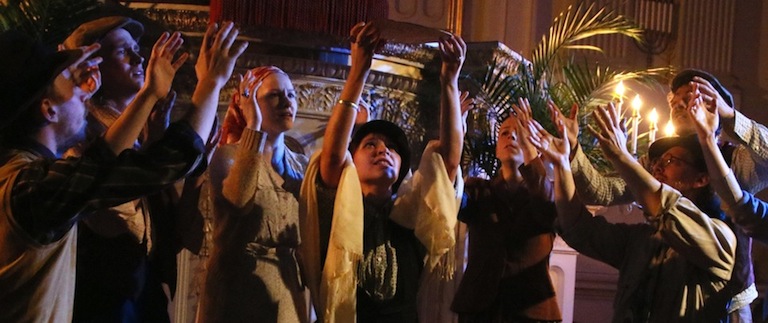 "A PASSION" COMES TO ROCKAWAY
By Dan Guarino from The Wave 3/11/16
On Palm Sunday, March 20 at 3 p.m. the Rockaway Artists Alliance will host a unique production of "A Passion". Created and performed by Dzieci Theatre Group, it recounts events of the Passion according to the Apostle Matthew from the Gospel. Presented at RAA's T-7 Gallery, the performance is free and open to all.
Matt Mitler, co-founder and director of the acting troupe named after the Polish word for "children," spent some time to talk to The Wave about the group and its new production.
Dan Guarino: Tell me about Dzieci.
Matt Mitler: I was leading an experimental theatre workshop and at the end of the course, one of the participants, a young Swiss actress named Yvonne Brecht, came up to me and said, "I want to work like this all the time." And I said, "I do too, but it's impossible. In Europe you can create an ensemble. But not in this country, at least not in New York City." And she said, "I can put together a group. How many people do you need to start with?"
That was in 1987 and we're still at it. Of course, the only members still here from the beginning are Yvonne and I, but everyone who's ever worked with the company has added to the process. There are about 13 members currently, many who have been around for a number of years.
DG: What are some of the guiding principles behind Dzieci? And can you describe what a Dzieci performance is like?
MM: First off, every show – Makbet, A Passion, Fools Mass, Cirkus Luna – is different. And then every performance of every show is different. But there is a commonality, and that I'd say relates to our guiding principles.
We work in the medium of the theater, but we don't work for the theater. We work to evolve as human beings. If there is a way to do something more humanely, more organically, more attentively, we make every effort to do so. Our public performances are most often on a donation basis, as is our work in hospitals. We take on a commitment to service, so we spend time with disadvantaged populations. We find that people in hospitals are better served if what we do empowers them, and if we approach our interactions with humility. We see that a deep human contact is possible if we can be more essential. And this very quality we try to bring into performances for the public.
What you see when you witness a Dzieci performance, no matter what performance on whatever day, is a group of individuals in an extraordinarily deep and truthful contact with each other. But the form of the work is not the point. The point is that the work be able to sustain an ever-increasing demand for presence; that the work leads in unexpected directions, that it unveils us unto ourselves. We can tell we are headed on the right path when our work brings us closer to a valuation of life in all its forms. And I think our audience senses this and is carried along.
DG: What can you tell us about this work you are bringing to Rockaway, A Passion?
MM: Supposedly (the apostle) Matthew wrote it, but we'll never know for sure. But the piece did have a rather unusual genesis. For well over a decade, Dzieci has had a relationship with The Abbey of Regina Laudis in Connecticut, going there regularly for retreats, participating in their prayer and practical activities, and presenting our performances, often in very early stages of development.
We were interested in moving towards more creative interactions with their community. But then in 2012 they completely shocked us. For Holy Week, a small group of courageous nuns wanted to present, in a Dzieci way, the Passion According to Matthew. Their only request, other than that we challenge them(!), was that they wanted to change roles the way we do in our Makbet so that everyone plays all the parts: Jesus, Judas, everyone.
The experience was life changing, for Dzieci and the Abbey both. And it inspired us to further explore this sacred ritual. But we had a question to struggle with: can this liturgy be relevant to non-Christians as well, specifically to Jews? There are Jews in Dzieci, myself included, and even though the Passion we created at the Abbey was filled with great beauty, the liturgy itself was still rife with anti-Semitism.
We had given a subtext to the Abbey performance that the nuns were Jews in hiding during the Holocaust, specifically, Janusz Korczak and his young students. That element expanded as we worked on the piece, becoming more explicit. And what we did with the text was to seek out the earliest versions, compare them, question their meanings, and cobble them together, replacing as much as possible with Hebrew. Then adding Jewish chants, prayers, and ritual. Essentially making our Passion a Jewish event, and by extension, a story simply about suffering and compassion.
DG: What has the reaction been at various places you have performed it?
MM: Tears, embraces, gratitude from people of all ages and all religions. Here's one of my favorite quotes:
"I'm 88 years old and was one of the first members of the Actors Studio and I've been to countless plays, but I can't remember the last time I saw a performance that moved me as much as your Passion," – Lenka Peterson, Bethlehem, Conn.
DG: How do you feel about bringing this performance to Rockaway? What do you feel is special about the RAA space?
MM: We've been performing at Fort Tilden for about a decade I guess, and we love it there. Sometimes we all jump in the ocean afterwards. Actually some of our most fun rehearsals have been working on Makbet in the surf. And the RAA space is so inviting and so perfect for our work. The first time I saw the T-7 Gallery I thought – We have to perform here. Fortunately the RAA membership agreed. And the audiences we've encountered have been wonderful. For me, it's like performing in small European villages, which I did for years. The community is somewhat isolated but exceptionally diverse and richly creative. Performing for a solid community puts the work on an entirely different level.
DG: I have seen audiences be very moved by Dzieci's work. What are some of the things you'd like people to come away with after experiencing a Dzieci performance?
MM: Most of our work is highly physical, sometimes excruciatingly so. In Ragnarok we fought with 6 foot Bo staffs. Makbet can be like getting pummeled in a mosh pit. But A Passion is very contained. It's almost a meditation. It invites a sort of a hush. But our aim is never directly related to an audience. First and foremost we are interested in affecting ourselves. Can we be moved? Shaken? Cracked open? And the beauty of it is that if we remain focused on this aim, there is a correlation, and a commonality with the audience, which in essence, is no longer an audience, but a larger body of which Dzieci is now simply a part. Together, we experience something transcendent. We are all equally touched by grace.