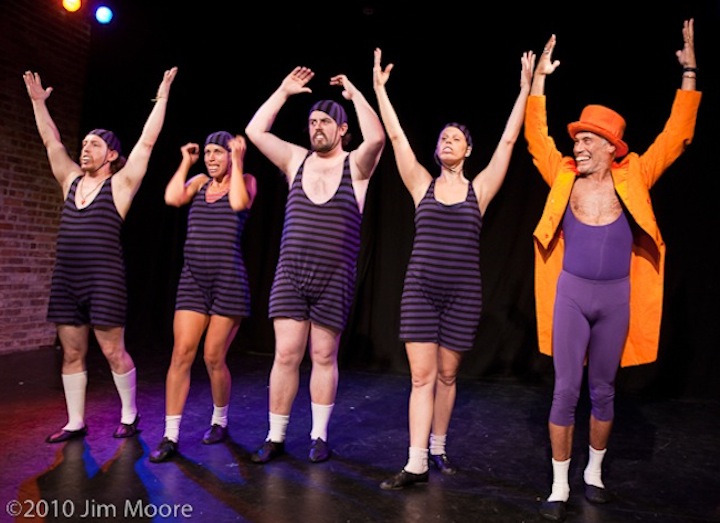 Considered by manys for to be best circus in East Molvenia, Cirkus Luna!, is likewise only circus in East Molvenia! Akrobat! Klown! Balls! Akrobat! Water Ballet! Akrobat! And death defyingly feat of Human Kannonball! Come to see circus spektakl like seeing never before
in most glorious one and half ring! Is special event for whole family! Childrens too!
Cirkus Luna! may be the worst circus act ever to perform in public. Nothing this family troupe does comes remotely close to demonstrating skill. The tightrope walker chickens out, the lion weeps, and acrobats can't even do a forward roll. So, the audience becomes tantamount in ensuring that this forty-five minute, highly interactive performance, indeed does go on.
Dzieci utilizes team building and trust techniques under the guise of inspired idiocy to create community between themselves and their audience. For Cirkus Luna, this audience is most often children with severe disabilities, but has also on occasion included late night revelers in NYC nightclubs.
"I must tell you, my family and I enjoyed your show so much. In fact, your terrible marching song has become an integral part of our bedtime routine!  Thanks for a smashing start to our Milk 'n' Cookies series!"
Melanie Rock – Riverspace Theatre
"Thank you for making me laugh. I thought I was not going to laugh. But I did. Thank you from keeping me from depressin'." "The best part was when we jump into your hands!"
child residents – Stoney Lodge Psychiatric Hospital