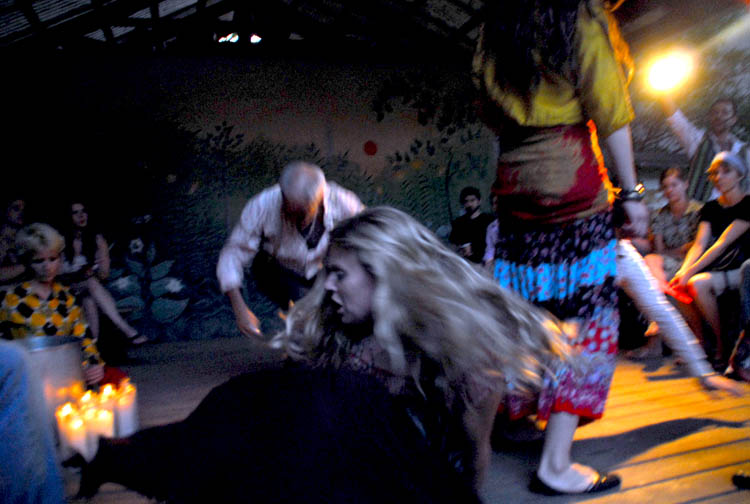 "As we were walking away from the performance, a car with other audience members flagged us down to get our reaction.
We were all so moved, we didn't quite know what to say, but we all just stopped everything
and talked about theater and ritual and God and spirit.  How often does that happen?"
– Patricia Kambitsch –
All Dzieci performances can be configured for any space, in doors or out,
with a minimum of four and a maximum of twelve performers.
There are no set, lighting, or sound requirements.
Touring fees are flexible and workshops can also be arranged.
For further information and bookings, please contact:
e-mail or phone the business office at 718 638 6037.
And for a limited time we are offering:
Living Room Makbet
Yes, imagine a troupe of Gypsies coming to the privacy of your own home:
everybody drinks and gets their fortunes told, then they sit back
and watch Makbet take place right on your living room rug.
Then afterward we all have a great big feast!
Sponsor a Makbet! Flexible pricing!
No living room is too small!
If you don't have a rug, we can bring our own.
(You supply the feast.)
Download a 1-page description of Makbet.
Contact Matt Mitler for more information:
phone (718 638 6037)
or e-mail.