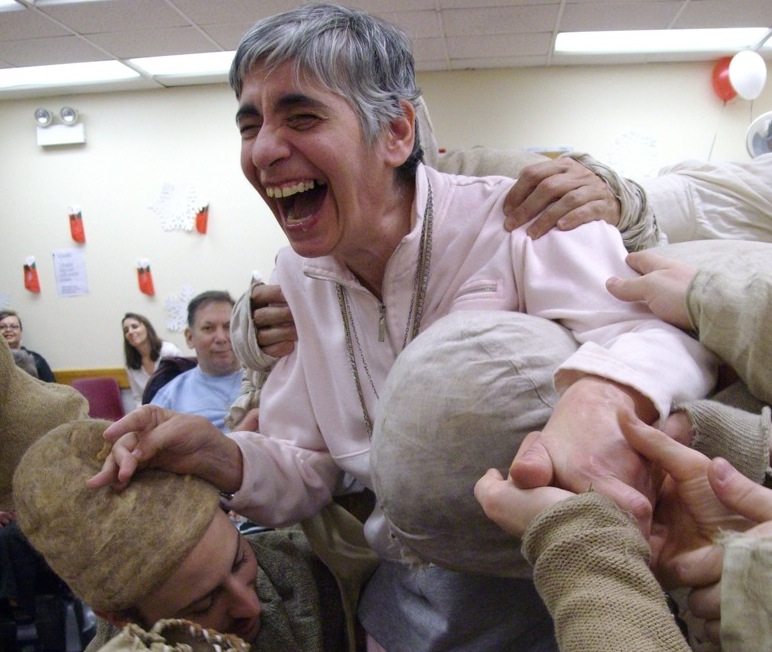 How can the arts serve hospitals and other institutions, and where is renewal to come from for beleaguered staff? Dzieci addresses these needs in unique and creative formats.
The Dzieci Creative Interaction is essentially an improvisational, celebratory event. Structured to fit the parameters of space and time, we rely on the group's expertise in clowning, acrobatics, choral singing, and trust exercises to establish a bond with our audience, ultimately empowering them to join in the creative process.
Interactions are basically non-verbal. This allows for a contact that bridges all cultures and ages, as well as special needs audiences.
Dzieci has a variety of looks for different occasions: Medieval Fools, costumed in shades of white, singing hymns and chants from the 8th through the 17th centuries; ragamuffin Kidz, in denims and calicoes, singing old spirituals and work songs; an exuberant and colorful family of traveling Gypsies, singing old European folk songs; Silly Chefs singing French chansons; the absurdly incompetent acrobatic troupe, Cirkus Luna!; and as a variety of buffoons for specially themed parties, as well as celebrity look-a-like impersonations.
The ensemble is also available for more intimate creative interaction, as well as for walk-around performances and staged presentations for schools, private parties, and corporate events, and can appear in any configuration; from duets to the full company.
The following list represents a sampling of institutions served by our creative methodologies:
Manhattan Psychiatric and Rockland Psychiatric Centers, Lorton Reformatory, Gallaudet University for the Deaf, United Cerebral Palsy, Stony Lodge Hospital, Montefiore Medical Center, Cabrini Center for Nursing and Rehabilitation, Continuum Health Services, The Associated Blind, Children's Hope Foundation, International Rescue Committee, Federal Employment Guidance Services, and Hospital Audiences, Inc.
Photos of our work at Cabrini Center for Nursing and Rehabilitation
Cabrini 1997-2012
Comments from Staff and Clients
"I had an interview at the Brooklyn VA and the director or training was a Dzieci fan. We spent the bulk of the interview talking about my work with the group. It was so amazing, I was so proud to discuss how being in Dzieci has prepared me to be a psychologist."

– Wendy Carolina Franco, Psychologist, PHD


"Dzieci played a an important role at the Park Slope Armory Shelter as part of our Wellness Center cultural activities. The evacuees greatly appreciated your beautiful music and asked for a second appearance! Your performances helped create a humane environment in the Armory that treated the residents with respect. The music helped them to regain their dignity and transformed a drill floor full of cots into a hall filled with music. Thank you so much for stepping up after the storm and bringing your creativity to the Armory."
– Caron Atlas on Dzieci's work after Hurricane Sandy
"We were quite impressed by the sensitivity and skill Dzieci demonstrated working with a diverse and challenging population that included children, adolescents, and adults being treated for acute psychiatric disturbances. We were particularly struck by the gentle and creative way in which the group engaged patients, demonstrating respect for ambivalence, mirroring fears, anxiety and sadness, guiding the patients through to a place of connection and healing. Through non-verbal metaphors, a safe space was communicated which allowed heavy defenses to melt and enabled individuals to relate in a more genuine manner.
Afterwards, patients expressed a sense of having felt valued and special. Testimony to how skillfully Dzieci creates bridges between territory that is often isolated, often forgotten. The after effects have been very deep, creating a sense of community with both the staff and patients that is often missing"
-Eileen Leith, Activities Director and Art Therapist, Stoney Lodge Hospital
"Every time the group has come to Cabrini Center for Nursing and Rehabilitation, they have provided magical, multi-sensory activities and therapeutic contacts that had a profound impact on residents and staff alike. One such instance that stands out in my mind was when the group physically lifted a disabled resident from her wheelchair and carried her as if she were floating on water. I have been unable to erase that image from my mind; and hope I never forget it. Other residents respond to this work in ways that more traditional supportive techniques are unable to foster."
-Oscar Correale, CTRS, Director, Therapeutic Recreation, CCNR
Thank you for an absolutely beautiful, spiritual and miraculous afternoon with the Zicklen patients. It was a true gift to them and to me as well. I really enjoyed your visit (I have had a major tragedy in my family and you helped me in my healing process). Please relay my thanks to all of your amazing group. I could see the sparkle, love and caring in the eyes of everyone.
-Sue Matthews, Zicklin Hospice
"I felt that they were on a boat searching for new land and they found us!"
-Child, age 9, Stoney Lodge Hospital
And here's some character events:
Pee Wee's Playhouse!
Dzieci entertains at Ridgefield Park's annual 4th of July parade – Photo Album
and Video Clip – Pterri Gets a Kiss!
Kops n' Criminals
Dzieci livens up The Smithsonian's bash for their new documentary series
on Prohibition & a little video clip – Kops Fall Down

Kidz On the Loose!
Dzieci runs rampant through the 5th Avenue Fair in Park Slope
& Dancin' in the Street!