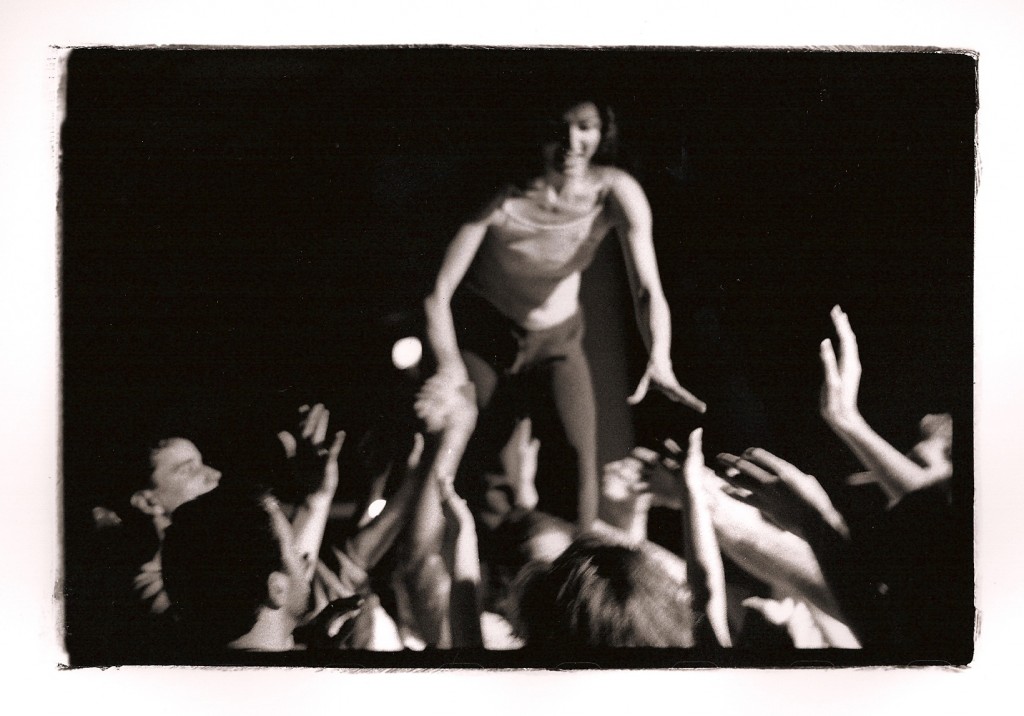 I am left with a sense that there is something indescribable about what you do–if there weren't, there wouldn't be mystery.
Renee S. House, Dean and Associate Professor of Practical Theology, New Brunswick Theological Seminary
The Dzieci Workshop employs elements of ensemble theatre, meditation, psychotherapy, and ritual, to produce an event that leads towards a heightening of consciousness and a deepening of community. For Dzieci, achieving this special quality of communion involves creating encounters that transcend typical human barriers, exploring realms both primal and spiritual while forsaking the common masks of habit and personality.
Each workshop begins with a theme based on a current inquiry for Dzieci, and flows in accordance with the nature of the participants. Past themes have included: In the Country of the Blind, where blind and seeing participants worked together in absolute darkness; The Hero's Journey, employing tribal rites and archetypical narrative; Circle of Fire, exploring Native American ritual; and Maraton, a 24 hour total immersion in ritual creation, which is presented annually every winter.
For participants, the workshop is a chance to share intimately with the company's practice, while exploring the essence of Sacred Theatre. The workshop also serves as an entry for potential new members who may wish to further explore Dzieci's work.
Dzieci has been hired to create specially designed workshops for such diverse clientele as: arts therapists, theology students, psychiatric staff, youth in crisis, clergy, and actors.
(For specific information concerning Dzieci's ministerial offerings please click here: Dzieci Ministry.)
Following are a few sample themes:
Sacred Theatre
Through physical, vocal, and ensemble exercises, explorations in ritual and ceremony, and vigorous confrontation with personal obstacles, participants will be brought to the axis where theatre and spirituality converge, where attention is strengthened and presence is demanded.
The Holy Fool
The Trickster and The Fool are alive within us. Through trust, relaxation,and improvisation, we can discover a practice of service through the healing power of anarchy and laughter.
Art in Service
The "Gift" is only honored when it is sacrificed to something higher. This workshop is specifically designed for those with a talent, who wishto actively engage the question, "What do I serve?"
Presence
Facing a real teacher, we are brought to a place of stillness and attention. Some say we are brought "home". For those who have an aim to be leaders or healers,presence is an essential quality to develop and refine. In this course, we will meticulously study a most illusive and fascinating subject: The Self.
Writings
Photos and essay by Sarah R. Bloom on Dzieci's open workshop during their artistic residency
with White Pines Studios at The Elkins Estate, PA
A deeply reflective insider's view of Maraton by Isis Phoenix
A beautifully rendered poem and report on Maraton by Mike Fitzell
Maraton 2013 – A Reflection by Ayun Haliday
And an essay on a Dzieci para-theatrical workshop by James Chris Fields
An Appreciation of Effort by Ryan Castalia
Jascha Hoffman speaks about his experience studying with Dzieci during the Open Door workshop:
https://soundcloud.com/jaschahoffman/leading-by-following-a-story
Testimonials
"I thought Dzieci was going to teach me how to act. I thought they would provide choreography for our Benedictine community's
Passion According to St. Matthew. Yet through the acting, they taught me how to be a deeper human being. In developing
the choreography, they opened a new way for me to interact with my community members. The exercises through which
the Dzieci ensemble guided us broke through ingrained relational patterns and facilitated a vulnerability
that brought us into unexpected levels of communion with one another. They left me with a desire to be released
from my habitual responses in order to be truly attentive to whom and what is before me;
to receive and respond with awareness and compassion. The clear dedication, professionalism
and compassion each Dzieci member built a sacred space through which the Passion
became a vehicle of transformation for both presenters and congregation."
– Katie, Postulant, Abbey of Regina Laudis –
"My prayer is that many will have the blessing of participating in your workshops."
– Brother Millard Cook BSG –
It was so wonderful to connect with Dzieci and you. Over the years, like the aged wine, you went deeper
and you are burning bright like an exquisite flame. It was my honor and privilege to be in the presence of the master.
Sharing the meal in silence, practiced in monasteries and cloisters, was profound. Washing hands and drying each others' hands
reminded me of the last supper's foot washing ceremony. I was beyond blessed with  the gentle approach
of being carried (sic!) by the group and being enveloped by singing angels. Yes, I felt included and loved unconditionally.
Matt, thank you for sharing yourself and all Dzieci so generously with us – your selfless outpouring.
I only can imagine how much energy, skill, heart and soul it went into hours of ministering to us.
I felt it, we all felt it. I love you all! 
~ Krystyna Sanderson, Psy.D., LP ~
"I brought my practice as a teacher of spontaneous singing to Dzieci's professional training workshop.
They shook me up, opened me up and transformed my work. In the first session, they immediately saw
the ways I flinch away from direct presence, how I assert control to keep myself safe. Over the next week,
my teaching was different. With youth and adults, I planned less and listened more.
Rather than imposing my vision of what should happen next, I began to love exactly what was happening,
and then feel how it could change. I began to give and receive at the same time. With Dzieci's help,
I'm learning to let each class unfold, unhindered by fear. And I am truly fed by what unfolds."
– Jascha Hoffman, The Open Door –
"I want to thank you for the devastating, torturous, sublime and transcendent experience that was Maraton.
It was a great relief to forget conceptions of myself for a night and to interact among perfect strangers
without using normal human speech.It produced in me a feeling that is quite rare and precious in life."
—Jonathan Barsness, Maraton '08
"My experience totally defies words it allowed for a sharing and intimacy that I find lacking in my day to day."
—Lisa Lerner, The Thunder, Perfect Mind
"It melted me, humbled me, destroyed my ego and pride, ripped my heart open, and changed me forever."
—Krystyna Sanderson, participant, The Hero's Journey
"I had a feeling of one common soul in which all participated. I thank everyone who made Maraton such a full,
magical, loving and healing 24 hours–not to be forgotten by me ever."
—Linda Rapuano, Maraton '09
"I had the most incredible weekend with Maraton, it was amazing, life changing, and I'm just so deeply in gratitude
for such a tremendously powerful space that this company is holding."
-Isis Phoenix, Maraton '12 (current company member)
"Beautiful how everything accumulated, the symbolic and physical blending, pushing me past my physical limits, leading to me
to several profound, intense moments. The experience was everything and more than I expected. THANK YOU."
– Mike Fitzell, Maraton '12
"I loved working with you, I thank you, and I hope we meet again soon. It's a great thing to cede control
when trust is established so quickly, without the familiar snake oil of words, a substance,
which I manipulate, consume, and deploy with relish and regularity… It was a kick and a gift to put them out of reach for awhile."
– Ayun Halliday
"I invited Dzieci to spend a year at New Brunswick Theological Seminary as our Artists-In-Residence.  During this year they used theatre with faculty and students as a way of "breaking-through" academic paradigms for knowing, inquiry, and encounter.
Their work with faculty in particular is too complex to be easily summarized, but, at its core, their ways of engaging enabled us to
enter a variety of liminal spaces that brought us into deeper knowledge of and expression with one another.  Our work/play
with Dzieci was about bodies and more than bodies.  It was about human experience and more than human experience.
In the end, I would describe what happened with and for our faculty as being taken up into the relationality of the divine
in such a way that our own relationality was strengthened by a power not our own, and also, our own."
– Renee House, Dean and Associate Professor of Practical Theology, New Brunswick Theological Seminary
"We had a great time working with your group. There was so much laughter and many things learned
in those two days. We are grateful for your passion for what you do and commitment
to finding the sacred through ritual! Thank you so much and God bless you!"
—Rev.Brent McDougal, Institute for Clergy Excellence
"Inspiring work, excellent execution. Wonderful non-verbal end to the conference. Fucking brilliant!"
—Participant evaluations, 5th Annual Conference on Spirituality and Psychotherapy, Movement and Repose workshop
"Please accept my deepest gratitude. Just for the opportunity to spend 24 hours shedding my long held anxieties,
doubts and cynicism was priceless. You were so generous with your hearts, energy, focus, passion and more."
—Reiko Aylesworth (FOX Television's "24"), participant, Maraton '08
"Truly one of the most amazing things I've experienced as a person or actress. Today, I found myself feeling unafraid
to take risks no matter where I was. The normal daily fears of people and places occurred, but the filter to which I would adjust my voice and behavior seemed to have gone away. I only hope others can fully realize themselves as I have."
—Judy Mair, participant, Maraton '08
"I don't think I can fully express with words all the impressions and nourishment that I received from your very unique Maraton.
I'm in love, it was awesome. Thank you, I want more, how can I give back?"
– 
Norris Salomon, Maraton '13
"I'm incredibly inspired. The work was something so far off the map from what I'm used to
and something that had terrified me in the past. I enjoyed flexing muscles that had not been worked ever
and flying full charge into the challenge. Thank you."
—Zachary Koval, participant, The High and the Low (company member 2010-13)
"Great acting workshop, great spiritual workshop, great moment with and near other humans being activated for goodness sake.
If you are interested in pushing yourself to open creatively and sensually you should check it out."
-James Chris Fields, participant, multiple workshops
"Thank you for making me a genuine if limping part of your workshop. It brought me right back to the source
of all my work from the beginning. It made me shed tears of joy to be reminded, after 30 years. of my true home."
– Cecile Pineda, Director: Theatre of Man (1969-1981), participant, The Wish '11
"My God what an awesome and profound experience!"
—Mark Sklawer, Director of Body Temple, participant, Maraton '08
"Your work persists as a point of radiance for me."
—Antero Ali, Director, Paratheatrical Research Center